I love running. But sometimes (actually… a lot of the time…), I get in my own way and I need a lot of tough love.
Yesterday, I had a 9-miler on the schedule and planned to wake up at 7am to crank it out early–before the sun and heat and so Jared and I could get on with our day. Smart plan, right?
Welp, 10am rolled around and I was a lazy sack of SLOTH on the couch, still in my pjs and full of excuses. I was hemming and hawing over whether or not to get my act together, to run now or do it tomorrow, or later, or ever. And then I thought about the latest blog I added to my reader: Shut Up and Run! On her FAQ page, Ms. SUAR writes:
"So many of us sit around wanting to become fit and/or lose weight. We read, we write plans, we contemplate, we go to therapists. Problem is we're thinking too damn much. We need to make it real simple real fast and just get out there.
Shut Up and Run
is my way of saying, '
Stop making excuses for your life not being what you want it to be and get out there
.' I try to take my own advice."
Amen, sister. Amen.
I was running by 10:15am and what started off as a just-run-even-if-it's-only-one-measly-mile turned out to be a killer run! I hit mile 8 under goal pace and felt strong, so I cranked it up for an additional 4 miles and a fast finish!
Jared and I "getting on with our day" included a whole buncha laying around the house because, while I ran 12 miles, the hubster PLAYED THREE HOURS OF SAND VOLLEYBALL! Caloriesperhour.com says he burned something like 2000 calories!
After two movies: American Psycho and Zodiac (both of which, I had nightmares about last night… Skip these ones, mom!), we peeled ourselves out of the couch cushions and took off for an Early Bird Special at Roppongi in La Jolla. Turns out the young folk call it "Happy Hour"…
Reason #2091 why I love San Diego: streets lined with palm trees!
Poor guy was so hungry he couldn't carry on a conversation.
Yep, that's a wool sweater. Temps drop to the 60s after sunsett… brr…
After sushi, a crab stack and vino, we wandered over to Cups for a sugar fix. Let me just say that this place is IN-SANE! They have so many flavors it took me an hour just to read through the list (and believe me, I did). Lucky for me, I have celiac disease, and am therefore limited to the the gluten-free flavors only!
We each got two cupcakes because, well, life is short.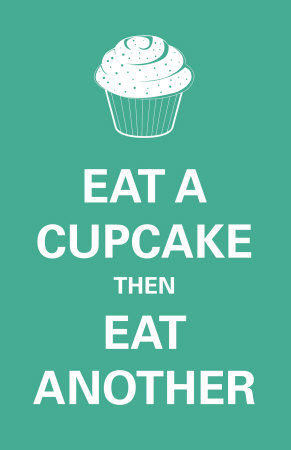 Also, I like to follow the rules.
"Velours Rouge" – a chocolate-espresso cup with cream cheese frosting
"PB Cup" – a chocolate cup with peanut butter frosting in a chocolate shell
"Bunny Love" – a carrot cup with almonds, pecans, and cinnamon cream cheese frosting
Because I know you're wondering, "Bunny Love" is my all-time FAVE from Cups! And Jared's #2 cupcake was the "Chocolate Milk": a vanilla cup topped with light and creamy chocolate frosting. His fave of the two was that heavenly PB Cup. Hands down.
To sum up (and in case you skipped the title of this post): Shut up and run, then eat cupcakes. They taste way better after you get your sweat on!